In 1954, Tom Hannum, Jr. was so passionate about motorcycles that he was able to convince his father, Tom Sr., to sell his automotive business to purchase a Harley-Davidson® franchise. So began the Hannum's Harley-Davidson® dynasty, which continues to bring the "Thrill of the Ride" to customers throughout Pennsylvania, Maryland, Delaware, New York and New Jersey.
Hannum's Harley-Davidson® has been a family-owned and operated business since it first opened its doors on Chester Pike in Crum Lynne in 1954. As the business expanded, the store was relocated to its current location in Media, PA in 1959; a second location was added in Chadds Ford, PA in 2000; a third location in Sellersville, PA opened at the start of 2015 and a fourth location opened in Rahway, NJ at the start of 2016. In February 2018, we were pleased to announce the opening of our fifth dealership: Electric City Harley-Davidson in Scranton, PA. Most recently, we are proud to announce the addition of our 6th store, Lancaster Harley-Davidson in Willow Street, PA. Family truly is at the heart of Hannum's Harley-Davidson®. Tom Jr. was an avid racer and motorcycling enthusiast with a great respect for the American iconic brand, Harley-Davidson®. Over the years he passed this passion on to his wife Rita and two children, Tonda and Tom III. All three are actively involved in all aspects of the business today.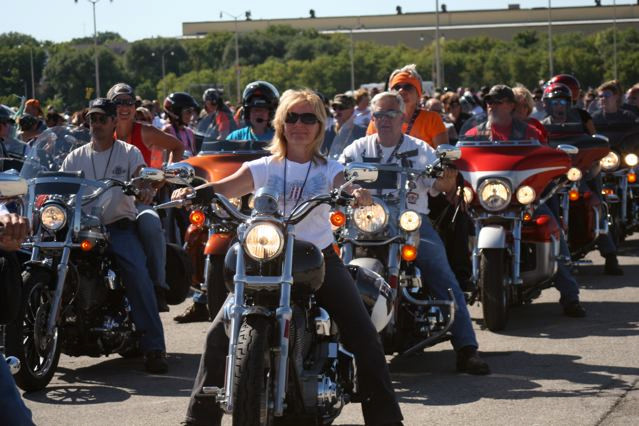 Along with their talented staff, the Hannum family continues to serve the area with exceptional customer service while maintaining their standing as one of the largest Harley-Davidson® dealerships in the nation. Known for their huge selection, Hannum's Harley-Davidson® has over 500 new Harleys® in stock as well as plenty of pre-owned models to choose from. Hannum's Harley-Davidson® boasts an outstanding sales, service, parts and MotorClothes® team that continues to support the original mission of bringing the "Thrill of the Ride" to all those who seek it. As Hannum's Harley-Davidson® celebrates over 60 years in business - we welcome you to join us for an unforgettable ride.
At Hannum's Harley-Davidson® we're not just proud Harley-Davidson® dealers, we're also riders. So we know the freedom and adventure you'll find with the right motorcycle. Our friendly and knowledgeable sales, financing, service and parts departments are prepared to make sure your experience is outstanding, from assisting while you're making your choice to ongoing maintenance and customization. At Hannum's Harley-Davidson®, we value the opportunity to create a long-term relationship with our customers, and we do that by making sure to exceed your expectations.
Six locations - unlimited experiences:
Hannum's Harley-Davidson, Brandywine Harley-Davidson, Freedom Valley Harley-Davidson, Liberty Harley-Davidson, Electric City Harley-Davidson & Lancaster Harley-Davidson.
Hannum's Harley-Davidson® Makes it Happen!